let's see. a couple of engagement shoots, a wedding, a retarded camera, a cycle race, and a new camera… all adds up to a little bit of fun.
the engagement shoots were a great warm up to my wedding season. they are infinitely more relaxed, though you still have to somehow pull the uber-romantic side of the couple out. and when you're sticking a fat lens in their faces, romance tends to be the last thing they want to do. usually makes for a interesting afternoon.
shot my first wedding of the season last weekend. the bridal party was tons of fun. Donna, the bride, even had coffee delivered at the salon for me (well… not just me, i'm not that special). my D200 decided to start to act up at the salon. all of a sudden the dead battery indicator would show up, and my camera would stop functioning. switch off. switch on. and it would work again. retarded camera! by the time the ceremony came around, it started to become more frequent. switch off. switch on. by that point, i was trying to figure out what the hell is goin on. took out the batteries, wiggled the grip around. no idea. luckily, i made it through the afternoon with only one or two mishaps. the reception was the nail in the coffin. by the end of the night, my camera would stay on for only 15 minutes or so before the turning up dead. not even that, a couple of my images were coming up 4 to 5EV under exposed and it wouldn't recognize my lens. did a quick google when i got home, and found out the problem has been nicknamed "dead battery syndrome". at least i'm not the first one. and so it's off the loonie-bin for a bit of a therapy session.
before i sent my D200 off, i took it for one more spin. nik was racing the Canada Day cycle criterium in Edmonton. it was her first cycle race, and she road amazingly well! i've always told her that she needed to start cycle racing, it's her strong suit. her cycling partner finally convinced her. the races are so much fun to photograph. they're crazy fast, and the sound that the bikes make when they're speeding by to you is exhilarating. make me want to buy a road bike really, really bad.

Nik killing it on the bike
and last, but not least, the new camera. instead of watching the fireworks burst over the river, i decided to crack open a bottle of Masi Valpolicella and convince myself that a new D3 and 24-70mm lens was the right choice. didn't take much convincing, one sip, and… yup. the D3 is an amazing camera. the flexibility it has with up to 6400 ISO makes shooting in any kind of light a possibility. i took it out for a little scouting spin. i can happily say that i can know shoot anywhere… literally!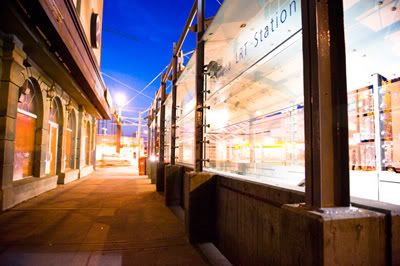 6400 ISO, 11:30 at night
© Copyright 2013, Ian Sheh